Inventory Spotlight: S. R. Burleigh
Inventory Spotlight: S. R. Burleigh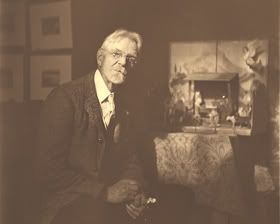 Every week new works of art come to the gallery, they are inventoried and photographed. Some paintings go into scheduled theme exhibits while others are installed in the Studio Collection. Here is a sneak preview of some of the paintings that are new to inventory.
S.R. Burleigh (1853-1931), Crèche, $2,200.
This nativity scene was produced and hand painted by S.R. Burleigh. An artist of many talents, Burleigh was involved with a small toyshop on Benefit Street. It is unclear if this crèche was produced for the toyshop or as a private gift. There are seven figures and seven animals – all are hand stamped on each piece.
Biography of S. R. Burleigh (1853-1931)
Burleigh spent his boyhood years in Little Compton. He married Sarah Drew Wilkinson in 1875. With her encouragement, he became a full-time artist at age 25. Sarah's wealth enabled Burleigh to study painting in Paris with Paul Laurens in the first years of their marriage. Upon his return to Providence in the 1880's, Burleigh became an active member of the Providence Art Club. In addition to being a well-loved Providence artist, he was one of the most prominent civic leaders in the city.
Burleigh's watercolors can be described as reminiscent of George Inness. Burleigh was known for perfection of line, exquisite balance, delicate and sensitive use of color and the overall poetic feeling of his painting. Mabel Ducasse, art critic for the Providence Journal, wrote of his 1929 Providence Art Club show: "There is a quality in his work which suggests that of the masters of the Renaissance when they chose to employ line and wash. It is character — born of perfect certainty of touch and flowing freedom of line. It is seldom achieved by modern watercolorists, who most often mistake the function of their medium, which is that of drawing rather than painting."
Burleigh earned national recognition when he won the Bronze medal at the St. Louis Exposition in 1904, and the open prize from the Buffalo Society of Artists in 1913. By 1929 he was considered one of the country's leading watercolorists. Many prestigious art institutions chose to exhibit his works, solidifying his distinguished reputation. Burleigh was a multifaceted artist, an accomplished builder and furniture designer as well as a painter. Along with fellow artists C. Stetson and J. Aldrich he was responsible for the construction of the Fleur de Lys building on Thomas Street, the first building ever built specifically to house artist studios. The painter H.A. Dyer wrote, "S.R. Burleigh has perhaps done more to make Providence fond of painting than any other source." (1914). Burleigh's personal charm attracted many friends and patrons to his art, but, more importantly, he will be best remembered for his keen artistic sense in decorative design, color and composition.