Inventory Spotlight: H. A. Dyer
Inventory Spotlight: H. A. Dyer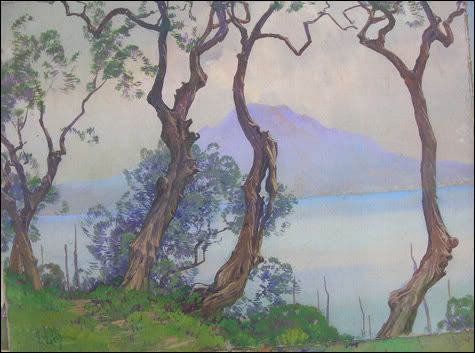 Every week new works of art come to the gallery, they are inventoried and photographed. some paintings go into scheduled theme exhibits while others are installed in the Studio Collection. To give you a sneak preview of some of the paintings that are new to inventory we will send out this e-mail blast to keep you up to date!
H. A. Dyer (1872-1943)
Gouache, 15″ x 11″
Sorrento, Italy
Port Town in Naples, Southern Italy
Few Rhode Island artists enjoyed the popularity and patronage that H. Anthony Dyer has in present day and during his lifetime. A descendant of the art inclined Hoppin family, Dyer graduated from Brown University and Rhode Island School of Design. No one instructor dominated in Dyer's tutelage, rather it was the school of the "Old-style English method of watercolor painting" which the artist adopted. He was very adept at using both gouache and transparent washes on gray/earth toned watercolor sheets. This technique the artist considered paramount to his successfully rendered watercolors. The artist was quite successful in selling his work at annual Providence Art Club and Tilden and Thurber shows. Yearly sojourns to Italy, France, and England provided him with popular subject matter for Rhode Islanders unable to travel abroad. Dyer exhibited throughout the country during his lifetime, including such locations as Cleveland, Chicago, Denver, Rochester, Syracuse, Fall River, Madison and Providence. Today his works can be found at the Providence Art Club, Rhode Island Historical Society, Rhode Island School of Design and Corcoran Gallery.